The village of Nimmaji Kho community is surrounded by hills and there was no toilet in most of the households and open defecation was a normal practice. People did not see open defecation as a problem as they felt having a toilet near the house was unhygienic. This inspiring story belongs to Rajkumari Dhanuk, a mother of two teenage daughters who went against all the odds and successfully constructed a household Toilet which helps her family live with dignity and hygiene.
With no household toilet available, Rajkumari Dhanuk had to regularly accompany her teenage daughters for open defecation up into the hills and further up to make sure no one could see them. Her daughter's self-esteem stumbled whenever they were confronted by their friends when they carried a bucket of water with them. Occurrence of water borne diseases like diarrhea were common during the monsoon and open defecation was even more difficult during the monsoon season.
"Mujhe bucket ke saath dekh liya, kya sochengey mere baarein?" her daughter told us.
Rajkumari's daughters had to pack their ambitions and dreams after studying until eighth standard due to unavailability of relevant education and Senior secondary schools, proper roads or even toilets in the village are a distant dream.
Rajkumari, who previously setup a tailoring business with a Rang De loan, cannot tackle her children's schooling difficulties but she wanted to solve the problem of Open defecation. Her path to fulfilling this dream wasn't easy as her husband was working as a daily wage laborer earning INR 500 per day occasionally.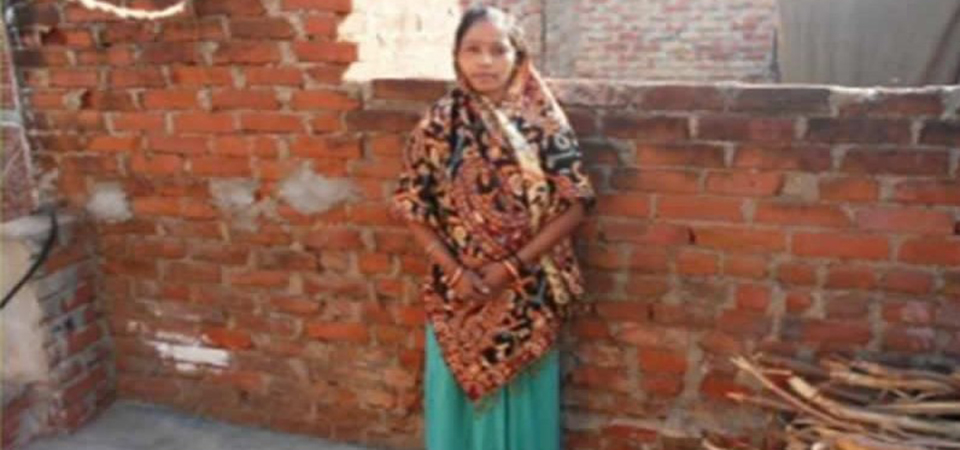 With the help of 19 empathetic social investors, she managed to raise INR 12,600 and further combined her own savings of INR 4,000 in order to construct a household toilet. She also managed to build her own septic tank as there was no sewer system available in the village.
This investment not only solved their problems forever, but her story has also inspired many in their community. Her story is not only a door to the upsetting reality of many such urban slums but the daily struggles of the people living there and the lack of facilities.
Rajkumari Dhanuk is a housewife, a mother and most importantly, a woman. As per their rituals, her family used to openly defecate with no support to build a household toilet which subjected her entire family to the lack pf privacy and hygiene. Rajkumari has approached VAMA for a loan to build a private toilet adjoining their home. This will help the family promote healthy living, dignity and cleanliness. Moreover, with two daughters aged 18 and 16 years, her fears for their safety is also a biggest concern for her. VAMA has decided to come forward and release the loan for the construction of her household toilet giving her and the family, the dignity to lead a healthier life.